Recommended for aerobic instructors and Personal Trainers. Julio Papi is a physiotherapist and has study the Kabat method. The Kabat is also known as PNF "Propioceptive Neuromuscular Facilitation" and is used for rehabilitation, but also for sports and high performance. In this workshop you will learn the basis of analytic and global of the most important stretches; first you will understand the practice by couples (assisted stretching very useful for Personal Trainers), then you will practice the same exercises on group (useful for Aerobic trainers or for Personal Trainers of mini groups).
We tested this course in different countries and we know that it can be a perfect complement for any profile of fitness professional. Yoga teachers and practitioners, stretching instructors, Personal Trainers, sport men and women, physiotherapists, and many more should have an extensive knowledge on this type of exercise. With this course we want to contribute in that direction.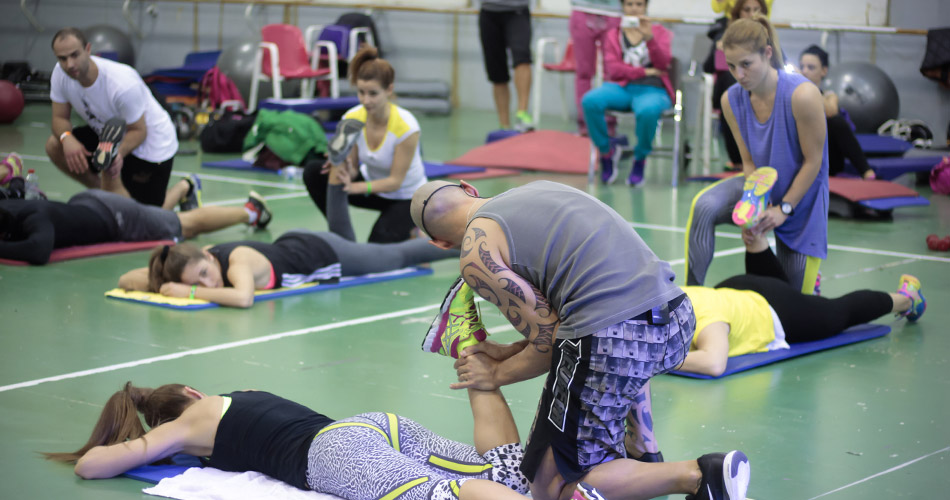 YOU WILL LEARN
PNF Techniques for stretching
Exercises for Personal Training classes (Assisted Stretching)
Exercises for aerobic classes
Strategies for class design
Other applications
PROGRAM
Stretching in Sports
Stretching in Physiotherapy
PNF Technique and others
Applications in Fitness and Sport
Exercises for most important body segments
Sequences ready to use for: Football, Body Building and weight lifting, Tennis, Golf and more.
Questions and specific case
TRAINER - JULIO PAPI
Julio has a Sport Sciences degree from the University of Madrid and he is also Physiotherapist after he graduated from the University of Valencia. This complete background let him understood and got him a complete overview over the fitness industry. He started to use the PNF Techniques more than 10 years ago and he knows how to explain the concept better that anyone in this field. You can see Julio teaching Yoga and Stretching on Youtube channels but this course means much more than this. With Julio you will learn about Stretch.
IMPORTANT INFORMATION:
Bring a towel, it will be helpful for some of the exercises we will practice. Water is also recommended.
For logistic reasons, some modifications may appear in the program of the course. These will be announced in due time for a better organization of the course.
Care este părerea ta?