KETTLEBELL FUNCTIONAL GAMES
A Kettlebell workshop in which Enrico will introduce the basics and will progress into multilevel training exercises and sequences. First goal is keep it simple and help to build a solid base in trainers and practitioners. Second goal is to give multiple training options motivating to practice and develop this amazing discipline. This workshop is a great complement to the Ghirasport Kettlebell Certification organized periodically in Bucharest by Move On Fitness School.
YOU WILL LEARN
Basic of kettlebell training
Progressions and regressions of exercises
How to create a workout
Various methodology of kettlebell training
TRAINER: Enrico Giannelli
Pro physical conditioning trainer, Functional Training Master Trainer and International Fitness Presenter. Travels a lot for learning and develop himself, participate in convention and
complete a lot of international certification in fitness world specialized in particular in functional training. For the kettlebell have the certification of "IKFF-CKT1" (International Kettlebell Fitness Federation) with Steve Cotter and the most appreciated "INTERNATIONAL GHIRI SPORT" with Oleh Ilika.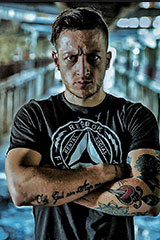 IMPORTANT INFORMATION
The workshop is taught in English. Better bring all necessary for taking notes when demanded by trainers. Video is not allowed: Only in very specific moments of the education under trainer acceptance and supervision.
*For logistic reasons, some modifications may appear in the program of the course. These will be announced in due time for a better organization of the course.
Care este părerea ta?