Move On D-Day Convention
ZUMBA, DANCE and STEP CHOREOGRAPHY
Presenters:
Cristina Constantinescu (România), Raluca Băbăligea (România), Cristina Neacșu (România), Tunde Kovacs (România), Anca Gheorghe (România), Raluca Preda (România), Alexandru Huhulea (România) and Gabriel Ghiță (România).
Dance for everyone! Everything started with DANCE, so Dance we will have. DANCE DAY is a full program dedicated to improve Aerobic and Step, choreography and free style classes.
Following the success of previous seasons, MOVE ON presents again D-DAY with another amazing line up of the most famous Romanian Fitness Presenters. Once again together in the name of choreography and dance.
Sessions program start with a very energetic Zumba class, followed by some of the undiscussed best dance and step presenters of Romania today that have shown in many events and workshops their dedication and amazing skills. We include in program winners of the New faces of Fitness competition. Check out the program below and get ready to spend the best time together.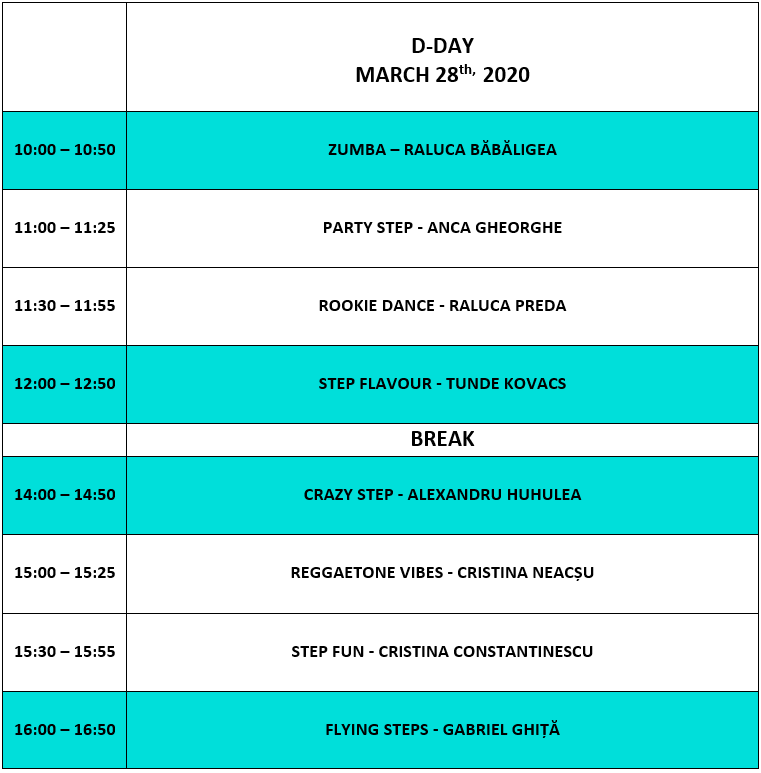 Care este părerea ta?