FUNCTIONAL PUMP INSTRUCTOR COURSE
Functional Pump is a type of strength and endurance training that involves the application of exercise patterns that improve muscle performance in movement both in everyday life and in competitive and non-competitive sports activities. The finally goal will be to propose a complete, complex and motivating training lesson. We will spend 3 days full of energy.
YOU WILL LEARN
About four fundamental principles that can be apply:
equilibrium;
muscle responsiveness / power;
efficiency of the abdominal muscles;
strengthening of muscles and muscle synergies with combinations of movements on planes and axes.
TEACHER: SALVATORE NOCERINO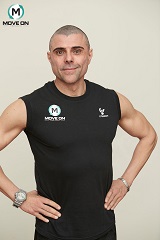 Salvatore Nocerino is an International Fitness Presenter from Italy, High Degree in Sport Sciences and in Sport Management, having presented his work in over 30 countries and collaborated as a teacher at the Naples University of Sports Sciences and Physical Education. As professional sportsman he is a former soccer player and body building world champion. He discovered his passion for group fitness training after having won the IBFA World Championship in 2002 and since then he dedicates himself to teach and lead workouts all around the globe.
Today Salvatore has been master trainer educating fitness professionals for 15 years, he has been athlete, trainer, instructor, group fitness manager, fitness director and is well known in the fitness industry. Many of his programs are or have been distributed to hundreds of gyms in Europe. In more Salvatore is a Herbalife Nutrition & Revenge Sport Testimonial and he collaborates like presenter with NIKE.
IMPORTANT INFORMATION
The course is taught in English. Better bring all necessary for taking notes when demanded by trainers. Video is not allowed: Only in very specific moments of the education under trainer acceptance and supervision.
*For logistic reasons, some modifications may appear in the program of the course. These will be announced in due time for a better organization of the course.
Care este părerea ta?