Saturday: YANG Day… YANG means the sun energy, pure fire. An explosive program with Functional Training, Dance and Step. By request we bring again to Romania the lovely, eccentric and charismatic Anastasia Alexandridi from Greece; one of the best Dance specialized international presenters. For Functional Training you will work out hard and smart with Lorenzo Sommo from Italy; a specialist forged by Reebok and other important schools worldwide. What about Move On team? A part our three renowned internationals Julio (Spain), Per (Norway) and Kiki (Romania) presenting in events around the world; also international this season are Iulian Panait (invited recently to Greece) or Raul Toma who is currently working as Premium PT in London, UK. With all of us, our golden team will share energy and good mood: Izabela Lacatus, Raluca Babaligea, Cristina Neacsu, Andreea Pavel and many more friends and professionals.
Last year we revolutionized the YANG program by creating a Minimasterclass section that make possible to try much more sessions in a day. We combined 50 minutes and 25 minutes masterclasses giving you more possibilities for study, more ideas and more fun.
After YAN comes the NEW FACES OF FITNESS COMPETITION OF ROMANIA. Winner will get a full paid participation in a secret international open competition abroad and a personalized training conducted by Move On team; Kiki, Per and Julio for instance.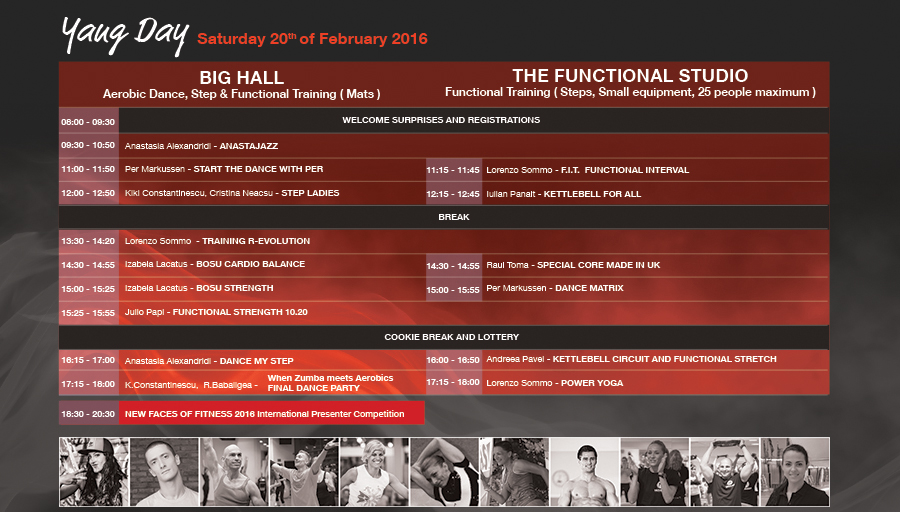 For logistic reasons, some modifications may appear in the program of the course. These will be announced in due time for a better organization of the course.
Care este părerea ta?