CONCEPT
Welcome to Schwinn® Cycling!
Schwinn® Fitness has come a long way since building the first indoor cycling bike and we are still passionate and dedicated to indoor cycling and the impact it can make on people's health and fitness.
The Schwinn® Cycling program is based upon 3 critical elements that set it apart from all of the other indoor cycling programs. We call it the A, B, C's of Schwinn® Cycling.
Authentic Cycling Principles
All elements of the program are rooted in the principles, approach and science of real outdoor cycling.
Broad-Based Appeal
The program is simple, non-intimidating, user-friendly for both instructors and participants, and enjoyable to a wide variety of exercisers.
Coaching-Style Instruction
Instructors are taught how to be great coaches who can engage, empower and interact with their students.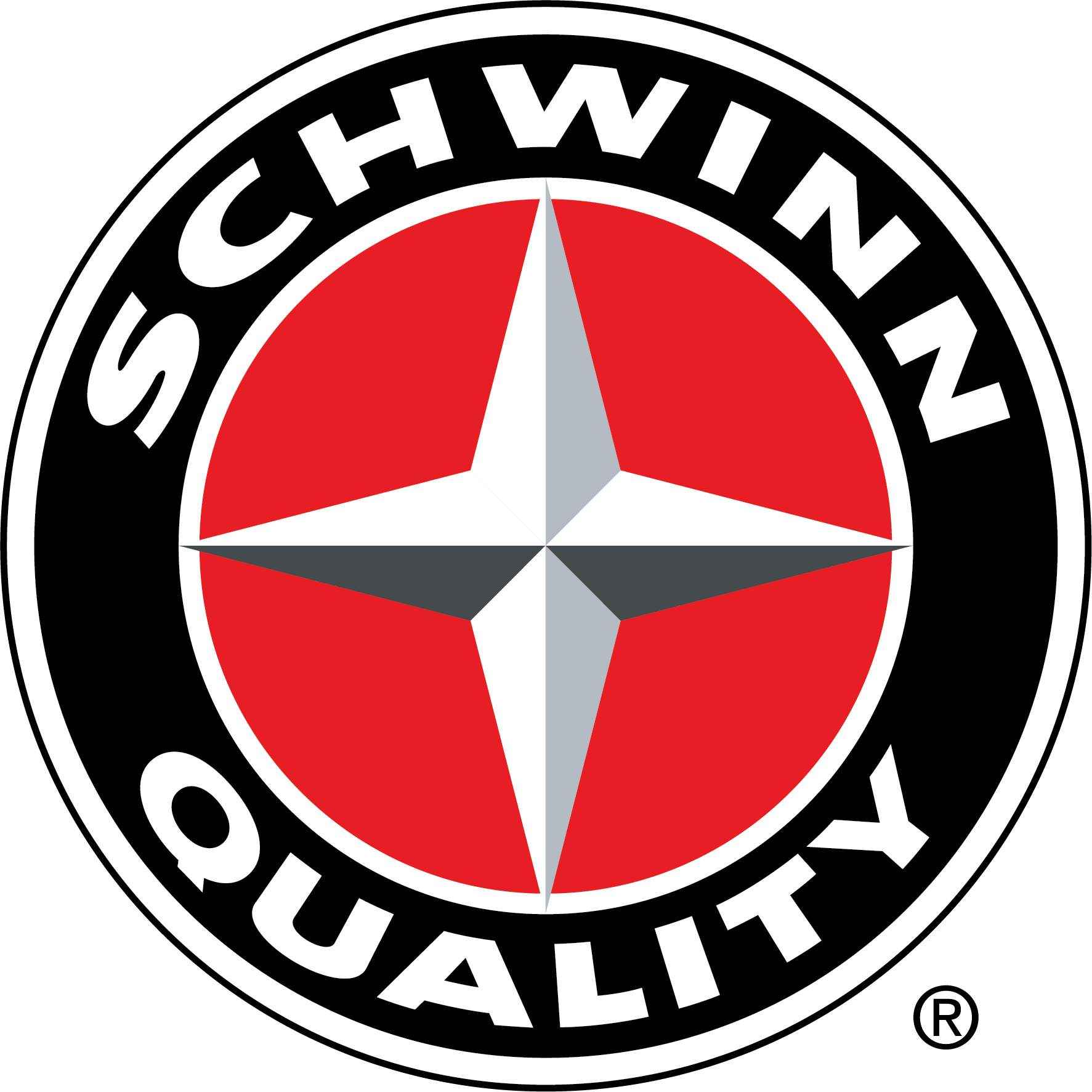 EDUCATION

1. Certification course (Bronze level)
The Bronze Level training is designed for instructors with no previous experience in indoor cycling. This level provides participants with a solid foundation in order to enhance their knowledge and further career prospects.
This is a 2-day (20 hour) certification course taught by a Schwinn Master Instructor.
Schwinn Master Instructors cover topics such as safe and effective indoor cycling, heart rate training, music analysis, coaching skills and developing classes to meet specific goals. This course also covers anatomy, physiology, biomechanics and mind/body balance.
Participants experience these topics by riding four power-packed workouts throughout the 2-day course.
Participants learn the story of Authentic Cycling and RIDE RIGHT™, and what makes the Schwinn® program so unique.
After successfully completing the 2-day certification course and then passing a written and practical exam, participants receive a certificate.
2. Continuing educations
Schwinn® Education is continually creating new courses to keep instructors up-to-date on current indoor cycling trends, coaching techniques, as well as broadening their understanding of various fitness related subjects. These courses will provide instructors with the tools and knowledge to keep their classes fresh and exciting and spread renewed enthusiasm to participants.

Target Heart Rate (5 credits, 8 hours)
Implementing target heart rate in classes for beginners and elite athletes.
Planning terrains in different target heart rate zones.
Gain a deeper knowledge of physiology, especially about energy & metabolism.
Receive guidance to successfully introduce the periodization of the classes within a club.
Class Design (5 credits, 8 hours)
Learn how to take ideas from outdoor cycling and implement them into an indoor cycling class.
Gain fresh ideas for providing variety and maintaining motivation in classes.
Complete approach to class planning.
Improve coaching abilities.
Mind/Body (5 credits, 8 hours)
Discover the link of the mental aspects of training to performance.
Optimized training through breathing control and focus.
Discover the "Flow".
Acquire ideas to implement the mental part of endurance training into classes.
Special Population (5 credits, 8 hours)
Focused on seniors, juniors and pregnancy issues.
Learn how to attract an older clientele to the health club.
Receive guidance on how to prepare and coach a class adapted to the active aging.
Learn how to train clients with the most common ailments.
Learn how to keep youth active by offering a class targeted to their needs and aspirations.
Learn the differences between training and coaching adults and adolescents.
Learn how to deal with pregnancy.
Gather new ideas and games to make classes fun.

Lactate Seminar (5 credits, 8 hours)
Learn to measure your lactate sterile and scientific exact.
Learn how to put your heart rate frequency to the corresponding lactate worth.
Nutrition (5 credits, 8 hours)
The most important basic elements of nutrition are demonstrated.
Learn answers to the most common questions asked about nutrition.
This course is an absolute "must" to understand Schwinn® Cycling as a complete training concept by showing that sports training and nutrition belong together. Climb one step further as a trainer!
Cycling & Music (5 credits, 8 hours)
As one of the most important components to any successful indoor cycling class, instructors discover how music can affect them, as well as the class participants.
Increase awareness of music by learning how to listen and analyze different music styles.
Learn how to make appropriate music choices for particular class situations and different varieties of class participants.
Schwinn Cycling Stretching Workshop (2.5 credits, 4 hours)
Stretching is a basic component of training. Learn when and how to stretch.
Learn the different types of stretching.
Discover the benefits and physiology of stretching.
Interval Training Workshop (2.5 credits, 4 hours)
Gain knowledge about aerobic and anaerobic work though interval training.
ncover the different types of training and how to use them in a club setting.
Receive structured ideas that can be used in interval training.

3. Silver level course and Gold level
The Silver Level is designed for Bronze Level instructors who want to advance their skills and knowledge and increase marketability.
To become a Silver Level instructor, attendees must successfully complete the Bronze Level requirements as well as the following:
Target Heart Rate continuing education course (5 credits)
Silver Level written exam (5 credits)
Two additional continuing education courses (10 credits total)
The Silver Level written exam and theoretical test.
To maintain a Silver Level, instructors must complete one continuing education course every two years.
Day 1: Preparation for Practical & Theoretical Written Exam (5 credits, 8 hours)
Need to brush up your knowledge and terminology before the big test day? This course will prepare you for the Practical & Theoretical written exam that you need to pass to reach the Silver Level.
Day 2: Practical & Theoretical Written Exam (5 credits, 8 hours)
Pre-requisite: Target Heart Rate Course
The successful completion of the Practical & Theoretical Written Exam is required to reach the Silver Level. Two practical tests are included – one where participants are tested on their technique on the bike and one where their coaching skills are assessed. The theoretical written exam contains a number of open questions from both the certification course and the Target Heart Rate Course.
The Gold Level is designed for individuals who are extremely passionate about Schwinn Authentic Cycling and want to achieve the highest level of instructor certification.
To reach the Gold Level, participants need to pass at least eight continuing education courses; one of the eight courses must be the Silver Level test (total of 40 credits).
To maintain the Gold Level, participants must complete one continuing education course every two years.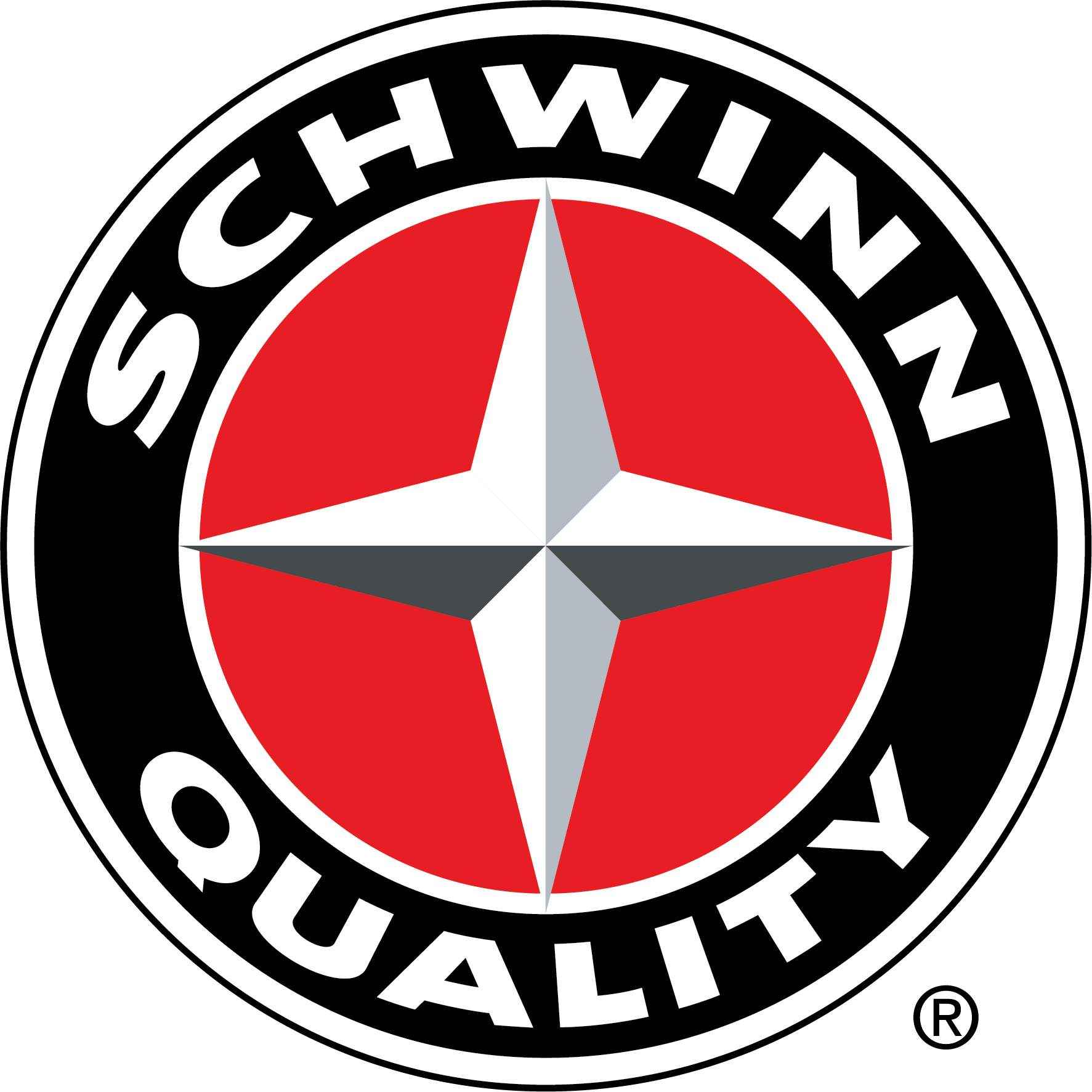 MASTER TRAINERS
Andrei Penu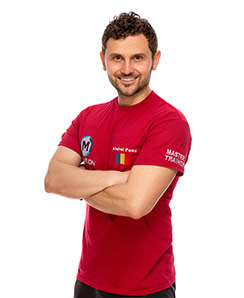 As a professional tennis player, Andrei has learned what the meaning of motivation is and the strength needed to reach personal targets. He practiced all this with his students as a Tennis Instructor later. With all the knowledge and all the motivation, he started working in the fitness industry in 2006 and since then he has been using them with his clients in personal trainings adding new training methods each time.
Current:
Schwinn™ International Master Trainer, Presenter and Educator
Personal Trainer and Aerobic Instructor for World Class Romania
BODYPUMP™, CXWORX™ (Les Mills) certified Instructor
Education:
University degree at the National Trainers School in Bucharest
A good educator should first be a certified person for this activity. Other qualities needed as an educator are: the knowledge, strong personality, endless enthusiasm, patience, charisma, and the ability to listen and teach.
Motto: "Mind over Body!"
Ciprian Toma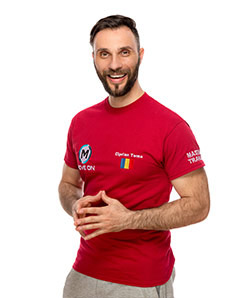 Ciprian has been in the fitness industry for more than 14 years. In 1999 graduated from the Academy of Physical Education and Sport than from 2001 started to work with the largest fitness company in Romania where he began to improve his skills as a trainer and aerobic instructor.
Current:
Master Trainer & Educator for Schwinn Indoor Cycling
Nautillus Certified Instructor
UE Strength & Conditioning Certified
Les Mills Certified (BODYPUMP, BODYCOMBAT & CXWORX)
Schwinn Cycling Team Romania
Education:
Academy of Physical Education and Sport
Motto: His true passion is inspiring and motivating individuals to lead healthier, longer lives by offering instruction in all facets of fitness personal trainings and aerobic classes.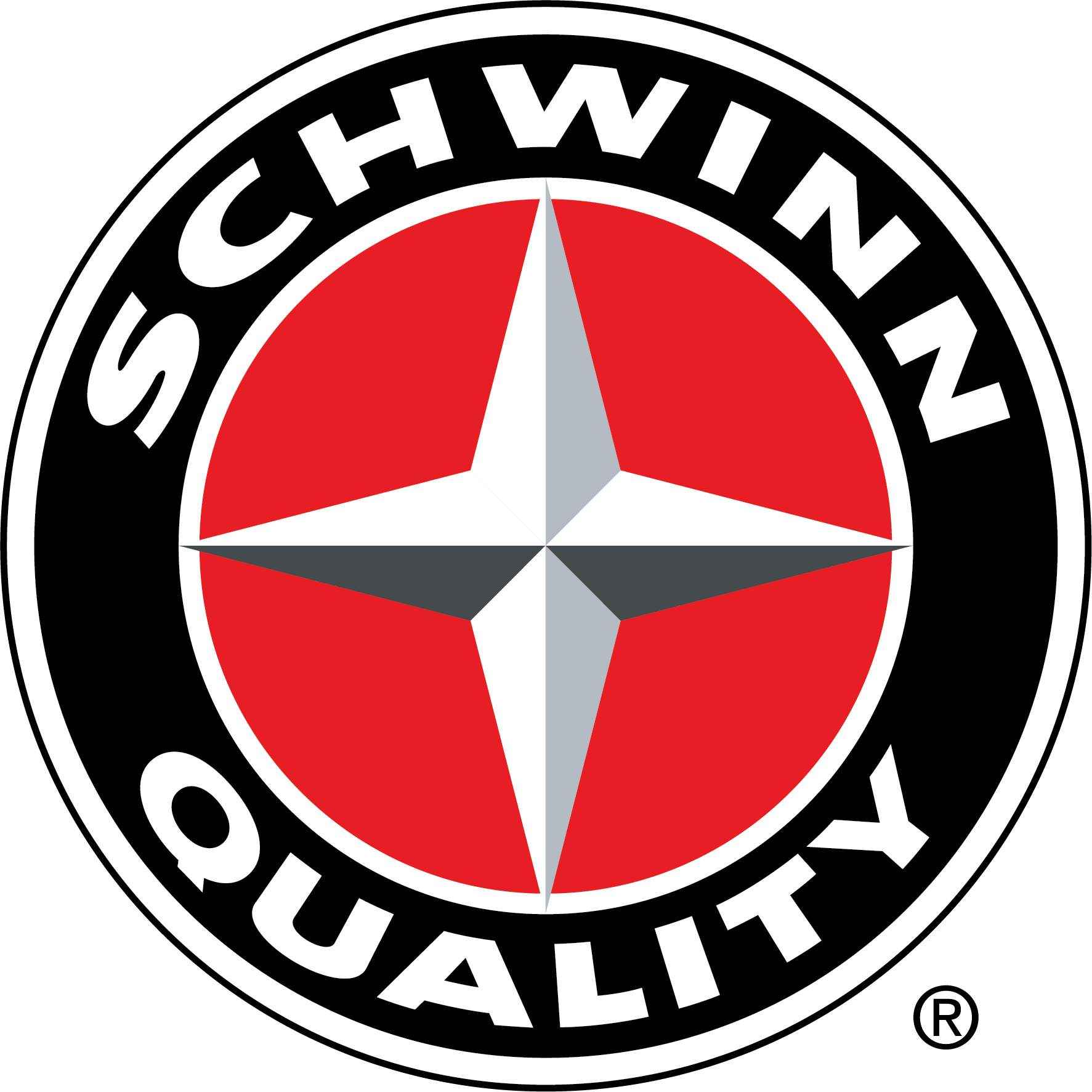 Join our Schwinn Cycling education!
Indoor Cycling
Indoor Cycling
CLOTHING
To place an order or to check size availability, please contact: martina@move-on.ro