10% DISCOUNT IN MAY
SUPer DELTA Camp is an outdoor sports program, dedicated to all those who want to approach new ways and promote an active and healthy lifestyle, proper physical education and sports.
We propose the best training programs, which determine the increase of motor expression capacity and sports potential in accordance with the level of training, ethics, conduct and compliance with safety rules.
SUPer DELTA Boot Camp is dedicated to all the people who love sports and nature and want to experience new ways to spend their free time. Physical exercise is one of the pillars of a balanced lifestyle. Participants will discover how this happens and what mechanisms are involved.
Dynamic Stretch classes help the body warm up and get into the rhythm of effort more easily. Stretching helps to mobilize the joints and muscle flexibility, so that at the end of the session the participants feel their body less tense, to have a smoother and easier movement.
The diet, or the composition of a food program, is a simple but strict process, which must follow a few simple steps, and in the class Why exercise is medicine, participants will receive advice from the kitchen of nutritionists.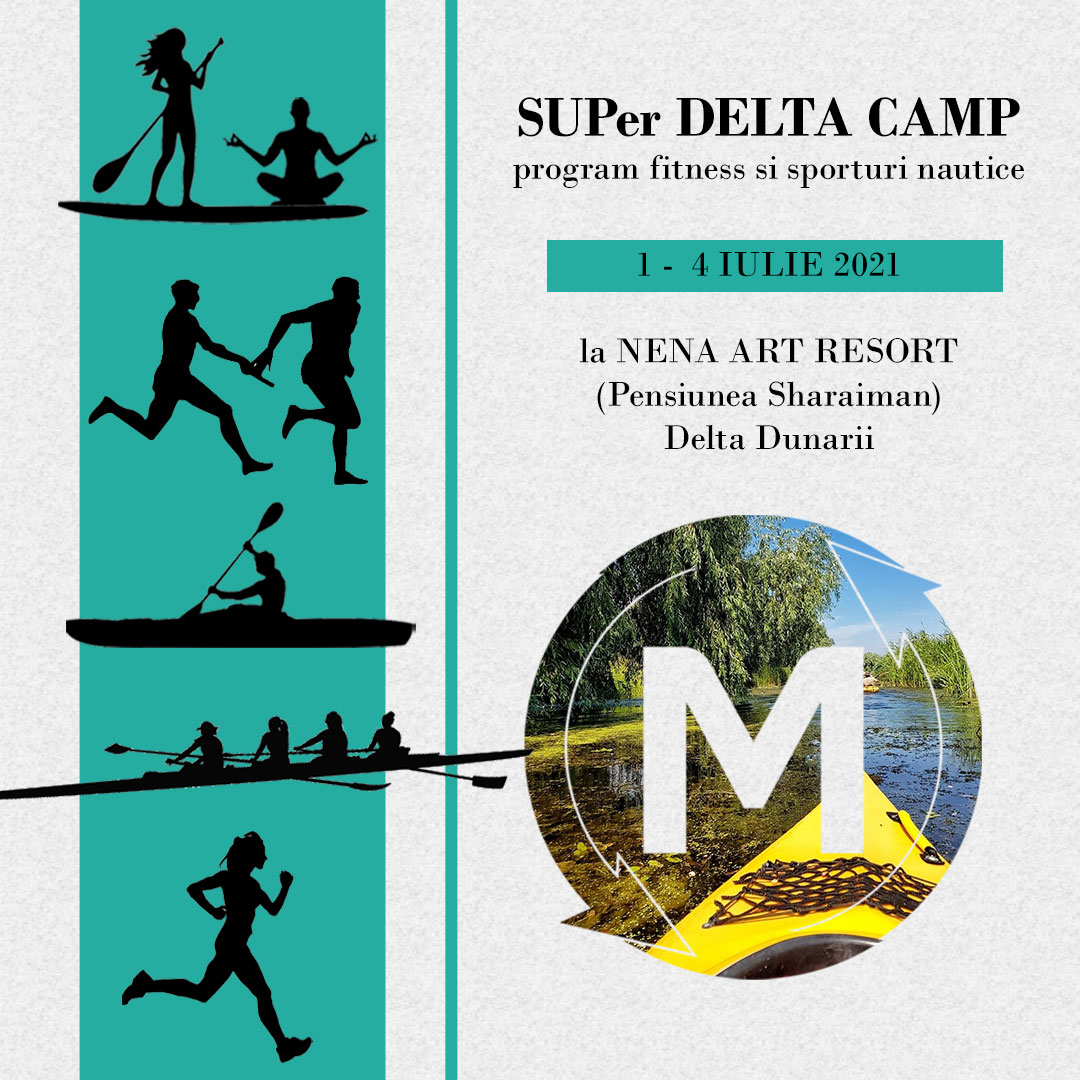 OBJECTIVES:
Promoting an active and healthy lifestyle
Promotion of water sports
SUP recreational sports activity, means of training complementary to other sports
The stand up paddle universe between recreational activity and 1100 cal / h
Promotion and popularization of SUP
Awareness of the benefits and advantages of outdoor sports
The importance of observing the norms of safety, ethics and conduct in the practice of water sports
FIRST ON SUP WORKSHOP:
Equipment presentation
Presentation and explanation of safety rules
The ascent and descent from the plate into the water and from the shore
The correct position and maintaining it
Rowing technique
Return techniques
Direction control
Rules of conduct
SCHEDULE:
THURSDAY
Reception of participants
Fitness activity: Yoga - Alina Grecu
19:00 - 20:00 Dinner
20:00 - 22:00 SUP / sports outdoor workshop
FRIDAY
07:00 - 08:00 Fitness Activity Wake Up / Warm Up – Alexandra
08:00 - 09:00 Breakfast
09:00 - 13:00 First on SUP
14:00 - 16:00 Lunch and break
16:00 - 17:00 Dynamic Stretching & Yin Yoga - Alexandra and Alina
17:00 - 18:00 Why exercise is medicine? - The river
19:00 - 20:00 Dinner
20:00 - 21:00 Technical meeting
SATURDAY
07:30 - 08:00 Breakfast
08:00 - 18:00 Event
21:00 - 22:00 Dinner
22:30 - Party on the pontoon
SUNDAY
08:30 - 09:30 Breakfast
09:30 - 10:30 Dynamic stretching & Morning Yoga– Alexandra and Alina
10:30 - 11:30 How to create a diet - Raul
Care este părerea ta?