STRETCHING INSTRUCTOR COURSE WITH RAUL TOMA & ISABELA LĂCĂTUȘ
Raul and Isabela created this course in the most complete and complex manner so that it can be applied to both fitness and athletes. They have used the experience accumulated previously in performance sports and specialized trainings to present a vast repertoire with stretching exercises.
In this course you will learn the basis of analytic and global of the most important stretches; you will understand the practice by couples (assisted stretching very useful for Personal Trainers), then you will practice the same exercises on group (useful for Group Fitness Instructors or/and for Personal Trainers of mini-groups).
Stretching is a physical exercise in which a muscle or tendon is deliberately extended or flexed to improve the elasticity felt at the muscular level and to obtain a comfortable muscle tone.
Stretching can be a perfect complement for any profile of fitness professional, stretching instructors, Personal Trainers, sport men and women and many others who wish to have an extensive knowledge on this type of exercise. With this course we want to contribute in that direction.
YOU WILL LEARN
In the theoretical part we will talk about muscles and tendons, about the types of stretching, about the moments appropriate to each type of stretching, about the related myths,
Exercises for Personal Training classes (Assisted Stretching),
Exercises for group classes,
Strategies for class design,
Applications in Fitness and Sport,
Exercises for most important body segments
Sequences "ready to use".
PROGRAM
Friday:
14:00 – 17:00 Theoretical part
Saturday:
9:00 -16:00 Assisted stretching (exercises very useful for Personal Trainers)
Sunday:
9:00 -16:00 Individual stretching (exercises for fitness group classes)
MASTER TRAINERS: ISABELA LĂCĂTUȘ and RAUL TOMA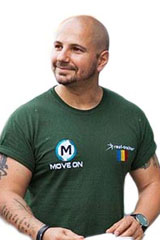 IMPORTANT INFORMATION
Better bring all necessary for taking notes when demanded by trainers. Video is not allowed: Only in very specific moments of the education under trainer acceptance and supervision.
*For logistic reasons, some modifications may appear in the program of the course. These will be announced in due time for a better organization of the course.
This module is part of the mandatory package for reaching the level 4 personal trainer certification with EREPS (European Register of Exercise Professionals).
Care este părerea ta?