STEP READY TO GO
Tunde Kovacs has prepared a lot of Step choreographies both in an Athletic and Aerobic way as well as a manual with the description of the progressions and 2 masterclasses for an intermediary level . If you are an AEROBIC INSTRUCTOR and u want already made classes , so you will find this the perfect course for you . So you know what you will do in this special day . Tunde is waiting for you !
Duration
6 hours
Level
Beginner - intermediary
Description
Do you want to become a Step instructor?
This workshop will provide you the theoretical and practical foundation to better understand the construction and the teaching process of a choreographic or functional Step class.
Are you already a Step instructor?
This workshop will serve you as a source of inspiration for new methods of teaching and communicating. On top of that, you will learn complete choreographies, that you can later use for your classes.
What will you learn?
We have prepared to you a special workshop, with emphasis on the practical part, through the two master classes that contain symmetrical and asymmetrical blocks. You will receive a manual that will include the analysis of the blocks and the progressions that were taught.
Also, you will learn:
Various techniques to teach choreographic blocks
Insertions
Communication strategies - cueing
Analysis of choreographic progressions (symmetrical and asymmetrical)
Applying what you learned – complete Step choreographies (dance and functional)
Program
Part 1
Introduction and discussing the agenda
Master class 1 – Symmetrical and asymmetrical step choreography
Workshop for analysis and practical exercises
Part 2
Master class 2 – Functional step progressions
Workshop for analysis and practical exercises
Feedback, conclusions
Students will be provided with manuals in electronic format, via email. Better bring all necessary for taking notes when demanded by trainers. Video is not allowed: Only in very specific moments of the education under trainer acceptance and supervision.
Teacher: Kovacs Tunde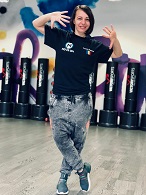 For logistic reasons, some modifications may appear in the program of the course. These will be announced in due time for a better organization of the course.
Care este părerea ta?