CREATIVE IDEAS 2 WORKSHOP
(3 credits, 4 hours)
This continuatinuing education of Creative Ideas (1) workshop gives you the chance to further develop yourself as a Schwinn Indoor Cycling instructor. You will learn how to add new elements to your classes so that the design of each workout becomes challenging and fun in the same time. Your riders will appreciate your classes even more and will always discover something new! In addition, the instructors attending this education will receive 3 Schwinn credits that will support the journey to Silver or Gold Level!
YOU WILL LEARN
How to bring on even more from your own style through the newly acquired creative elements
You will always be able to offer participants new well balanced routes with new ideas that will also improve the workout efficiency
How to have a structured class planning
How to increase the quality of cycling classes by improving your coaching & teaching skills
IMPORTANT INFORMATION
Better bring all necessary for taking notes when demanded by trainers. Video is not allowed: Only in very specific moments of the education under trainer acceptance and supervision.
TRAINER: LUCIAN MOLDOVAN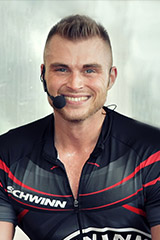 *For logistic reasons, some modifications may appear in the program of the course. These will be announced in due time for a better organization of the course.
Care este părerea ta?