Personal Training Periodisation
Do you want to find out when it's best to press the acceleration pedal to move to another level of fitness and physical condition of yourself or your client?
Whether you are a Personal Trainer Coach or a Physical Trainer for a sports team, or are you simply training for some time in the gym and you have no results or do not know how to get to your goal faster?
Then, this workshop is for you!
YOU WILL LEARN:
How to train with your best effort and how to be as efficiently and as intelligently as possible;
You will have customized training examples for performance athletes and amateurs;
You will find out which exercises are most effective in the gym or outside the gym depending on your favorite sport;
You will know exactly when it is best time to train, depending on the biorhythm, the competition period you are in and the goal;
You can create training programs during a competitive season or according to your favorite season (when you want to reach the maximum shape: spring, summer, autumn or winter) based on the information received;
You will receive tests of effort, strength, speed, force, mobility.
Students will be provided with manuals in electronic format, via email. Better bring all necessary for taking notes when demanded by trainers. Video is not allowed: Only in very specific moments of the education under trainer acceptance and supervision.
And especially you will have a surprising training where you will try all your senses and driving skills.
TRAINER: ȘTEFAN CUSURSUZ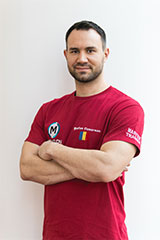 For logistic reasons, some modifications may appear in the program of the course. These will be announced in due time for a better organization of the course.
Care este părerea ta?