FIGHT & KICK
•  IMPORTANT INFORMATION ON SAFETY AGAINST SARS-CoV-2 SPREAD
 As a result of the Government Decision, No. 990, published in the Official Gazette, Friday, September 17, 2021, on the adoption of new measures in the context of the COVID-19 pandemic, access to the course will be allowed to the following categories of persons:
• Vaccinated against SARS-CoV-2 virus and for which 10 days have elapsed since the completion of the complete vaccination schedule, PRESENTING A GREEN CERTIFICATE
• Which are in the period between 15 and 180 days after confirmation of SARS-CoV-2 infection, PRESENTING A GREEN CERTIFICATE


This workshop is dedicated to all the people passionate about martial arts classes. It has as objective improving the knowledge about classes like Body Combat, Kick Box or Bag Boxing working on all of the important elements that this classes are made of.
You will have a Bodycombat masterclass to begin the day and is going to be a mix of different releases.
It is going to be a combination between practice and theory with a lot of information that helps everyone understand and make clear how this concepts should be aprroached in a much easier way. How to adapt to this kind of classes, to the intensity, even if we talk about a beginner or an advance person.
There will be 2 Q&A sessions regarding information received and as well everything you would like to know .
PROPOSED TOPICS:
Technique and how to improve it
Classes objectives
The benefits
The research behind the concept
Martial arts styles that are involved
PROGRAM:
8:00 – 9:00 Check in
9:00 – 12:00 Workshop – first part
12:00 – 13:00 Break
13:00 – 16:00 Workshop – second part
TRAINER: CRISTINA CONSTANTINESCU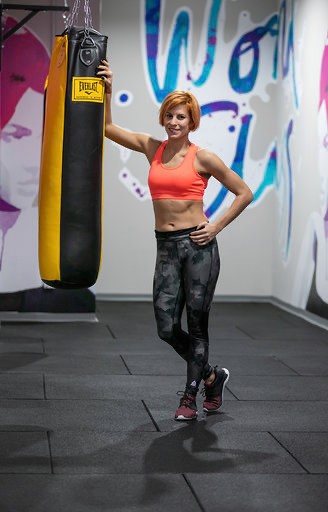 Kiki is Trainer, Assessor and Presenter for Lesmills Nordic in Bodycombat. She has a background in martial arts (Kyokushin Karate) practicing for 8 years and improving her knowledge in this area regarding aplying the knowledge into the fitness and group fitness world.
Kiki is part of the Move On team as a teacher in the basic aerobics course and teaches various workshops. Currently Kiki is Trainer, Evaluator and Presenter for Nordic Lesmills.
IMPORTANT INFORMATION
This workshop is addressed to all those persons interested in accumulating new information and knowledge in the field and the proposed topic.
Bring towels and drinks for avoiding dishidratation during all day practice. Better have with you all necessary for taking notes when demanded by trainer. Video is not allowed: only in very specific moments of the workshop under trainer acceptance and supervision.
*For logistic reasons, some modifications may appear in the program of the workshop. These will be announced in due time for a better organization of the workshop.
Care este părerea ta?