FUNCTIONAL TRAINING ADVANCED
Time interval: September 8-11, 2022
FUNCTIONAL TRAINING ADVANCED COURSE is a unique course in Romania which takes place in Poiana Brașov in the Carpathians Mountains. We made ready for you important topics with various types of training and lectures of interest to personal trainers. Teachers have prepared a consistent theme on developing and improving the quality of PT services, customer support, sales in PT, specific training or movement performance.
In addition to the "Hill Run" specific attraction, the program will cover various forms of functional training including rotation movement, progression in plyometrics, phisical preparation, smart training, stretching, but also specific communication strategies and techniques on changing habits. In addition, we will have lectures on nutrition and anatomy in motion - the minimum necessary for a correct understanding and approach when it comes to our body related to movement.
The Master Trainers and the Move On organizing team are ready to give you an unforgettable experience. Train hard, have fun, learn well!
This year the course will take place again in Poiana Braşov, and the participants will have the transport with bus, accommodation and meals included. Accommodation will be at the Hotel Ruia, a hotel with a friendly atmosphere and oriented towards sports training and training courses. For more details regarding hotel click here: https://bit.ly/2IRvdoe.
The trainings will take place in different locations than a fitness room such as ski slope or other outdoor locations. Course participants will have surprises throughout the mini-training camp.
Team:
Master Trainers Team: Dumitru Butilcă, Horațiu Dumitrescu, Isabela Lăcătuș, Raul Toma, Paul Herinean, Gabriel Vasilescu.
Management and support: Diana Oprea, Alexa Bușoi, Gabriel Vasilescu.
From the proposed topic:
• Hill Run - course specific part,
• Training Revolution - revolutionizing functional training and physical training,
• Rotation - The fundamental movement that can make the difference,
• Movements - Foot - Hip - T-Spine - Shoulder Complex,
• Essential Nutrition - Energy balance and calculation methods,
• Sales PT- how to sell more and more efficiently as a personal trainer,
• Kettlebell training,
• Changing Behavior - How we guide our customers to healthy habits,
• Pliometry,
• Dynamic stretching and flexibility,
... And other fun drills, games & relays.
IMPORTANT INFORMATION:
• Bring your food and supplements if needed for all day. Program is long and intense. You need amount of energy to be ready to practice and be focused during the workshops.
• Get enough liquids and be sure that you don't dehydrate during the day.
• Bring enough clothes for at least two workouts a day. Also we recommend to bring a hoodie or sweeter to keep you warm between workouts.
• Bring proper training shoes. Ideally we suggest bring one pair of running shoes and one pair of indoor/more stable shoes each day.
• It is recommended that you have sunscreen creams
• Bring pens and be ready to write during the workshops. You can bring your cameras and tablets but you can record only when told by the educator. Not during the training sessions.
For logistic reasons, some modifications may appear in the programs, hours and venues of the course. These will be announced in due time for a better organization of the course.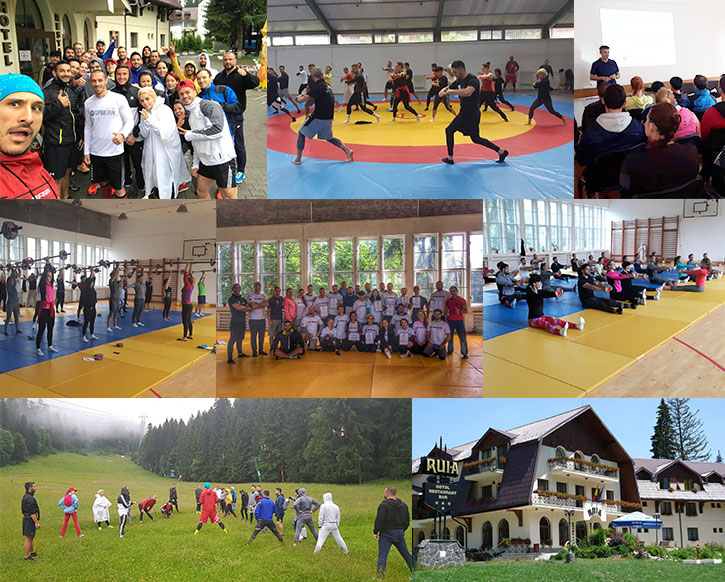 Care este părerea ta?