FUNCTIONAL TRAINING ADVANCED COURSE is a unique course in Romania made in Poiana Brașov in the Carpathians Mountains. We have prepared important and diverse topics and we including posture exercises and movement performance. Renowned and qualified international teachers will present lectures via zoom about PT services, customer care, sales power, specific training and performance.
The program will also cover various forms of functional training, including Kettlebell, Pilates, intelligent training of the CORE area in the postpartum period, asymmetric loading training and much more. In addition, we will have lectures on nutrition.
The Master Trainers and the Move On organizing team together with the elite international trainers are ready to offer you an unforgettable experience.
Don't miss our Barbecue (and Palinca) on Saturday Night.
Train hard, have fun, learn well!
This year the course will take place again in Poiana Braşov, and the participants will have the transport, accommodation and meals included. Accommodation will be at the Hotel Ruia, a hotel with a friendly atmosphere and oriented towards sports training and training courses. For more details regarding hotel click here: https://bit.ly/2IRvdoe.
The trainings will take place in different locations than a fitness room such as a basketball court or ski slope. Course participants will have surprises throughout the mini-training tour.
IMPORTANT INFORMATION
• Bring your food and supplements if needed for all day. Program is long and intense. You need amount of energy to be ready to practice and be focused during the workshops.
• Get enough liquids and be sure that you don't dehydrate during the day.
• Bring enough clothes for at least two workouts a day. Also we recommend to bring a hoodie or sweeter to keep you warm between workouts.
• Bring proper training shoes. Ideally we suggest bring one pair of running shoes and one pair of indoor/more stable shoes each day.
• It is recommended that you have sunscreen creams
• Bring pens and be ready to write during the workshops. You can bring your cameras and tablets but you can record only when told by the educator. Not during the training sessions.
The Team:
Director of the course: Julio Dieguez Papi
Master Trainers Team: Julio Dieguez Papi, David Stauffer, Lincoln Bryden, Giovanna Ventura, Raul Toma, Isabela Lăcătuș, Anya Glushkova, Horațiu Dumitrescu, Ștefan Cusursuz, Paul Herinean, Alexandru Huhulea, Amir Baban, Andrei Capusan, Alin Marginean.
PROGRAM:
Thursday

5 AUGUST

8.00

Check-in

World Class Atlantis

15.00

Intro to the program – Julio D. Papi

18.00

Essential Nutrition – Target Mass – Raul Toma

Friday

6 AUGUST

7.00

Hill Run – Horatiu Dumitrescu / Amir Baban / Andrei Capusan

10.30

Smart CORE Progressions – Paul Herinean

12.30

Essential Nutrition – Target Summer – Raul Toma

15.30

Kettlebell Progressions – Julio D. Papi

18.00

PT Online: 1. Win backs. 2. Increasing the value of your fitness services – Lincoln Bryden

Saturday

7 AUGUST

7.30

Natural Moves – Mobility & Strength – Alexandru Huhulea

10.30

Dynamic stabilization challenges – Progressions to Plyo with Asymmetrical light loads – Stefan Cusursuz

12.30

PT Online: Communication and customer care to increase permeation on market and client retention – David Stauffer

15.30

Hill Run to Speed and Speed Reaction – Horatiu / Amir / Andrei / Paul / Guest Alin Marginean

Sunday

8 AUGUST

7.30

Fletcher® Pilates Matwork – Anya Glushkova

10.30

Stretching 4 on 1 – 4 ready to use sequences for different functional purposes – Isabela Lacatus

12.30

PT Online:

Core strength recovery post-partum – Giovanna Ventura

13.30

Certificates Ceremony

For logistic reasons, some modifications may appear in the programs, hours and venues of the course. These will be announced in due time for a better organization of the course.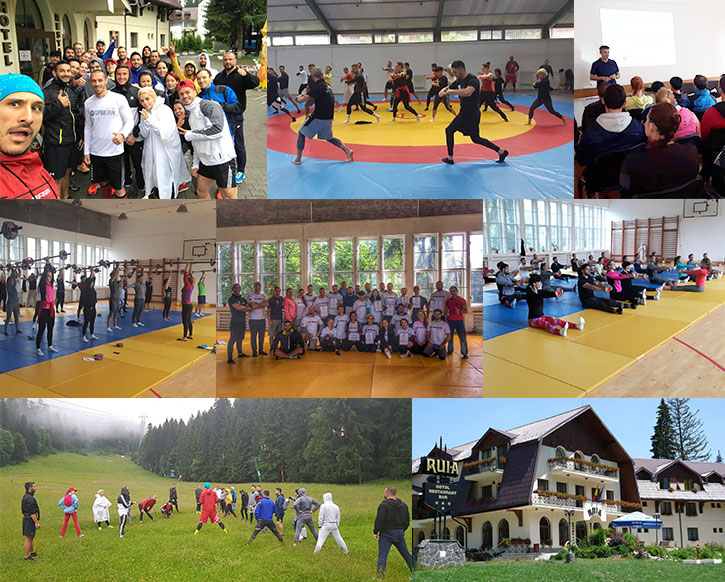 Care este părerea ta?