SPORT NUTRITION ESSENTIALS Workshop
With the development of the fitness industry, a certainty emerged: the coach is no longer just a specialist in the design and implementation of training programs.
A Personal Trainer is a coach, psychologist, sociologist, salesman, and nutritionist.
One specialization that completes the work of a coach is nutrition knowledge.
Fortunately, we do not have to go to a medical faculty to gain nutrition knowledge, especially practical nutrition.
Course dates are: 13-16.06.2019
We often ask:
How much we hydrate? When is water too little or too much? What should I drink and when?
What is the energy requirement of a trainee?
What are the nutrients? How should they combine? What needs to be controlled?
What are nutritional supplements? Which are right and not? When do we need them and when not?
What should we always eat when we train? What should we eat at certain times of the training process?
How do we align the nutrition with the training or target of each client?
All these are constant challenges in the profession of a personal coach. This course aims to inform informally all the topics mentioned above, and to provide a professional coach with the tools to reach client targets.
Personal trainers, sports instructors, and nutritionist technicians, athletes can participate in this specialization course.
Note: The subject of this specialization course does not cover food problems specific to people with various health conditions, digestive system or endocrine system.
Teacher: RAUL TOMA
Raul is involved in this industry over 20 years. He is recognized as one of the toughest and respected master trainers from Romania. He graduated the National School of Coaches, and has numerous international certifications: BOSU, TRX, RIP, KETTLEBELL, PILATES, stretching PNF, being at the same time 2nd Dan black belt in jujitsu Hakko Ryu, and Reiki master.
He is an author ("Knowledge is my power"), producer and presenter of radio show "Sport and nutrition", collaborator of many magazines dedicated to sport and life-style, producer of manual and training programs for Move On and WorldClass Romania.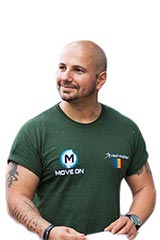 Care este părerea ta?