This is the 2nd level into the pyramid of the original Schwinn Cycling Instructor program. Silver Level means the achievement of several workshops and updates that enhance the professional profile of the instructor. It means that the instructor has been following courses and workshops, presenting since then a higher quality standards in these kind of classes.
For passing the Silver Level Course and getting certified as Silver level instructor, you need to have at least 20 Schwinn credits. Silver Level preparation (Day 1) brings 5 credits. At least 2 other courses are necessary prior this certification. Each workshop gives 5 credits. Mandatory course for Silver level certification is Target Heart Rate continuing education. See "Workshops and Special courses".
You will be evaluated
Day 1: Preparation for Practical & Theoretical Written Exam (5 credits, 8 hours)
Do you need to brush up your knowledge and terminology before the big test day? This course will prepare you for the Practical & Theoretical written exam that you need to pass to reach the Silver Level.
Day 2: Practical & Theoretical Written Exam (5 credits, 8 hours)
Note: We recommend taking this course only if you are certified Schwinn cycling instructor who has been already teaching practical classes and has some experience with teaching indoor cycling.
You will have to pass the final test to get certified!
Trainer: Andrei Penu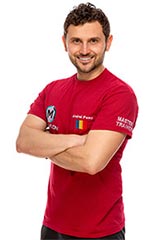 International Schwinn Cycling Master Level
After a long career in tennis that brought me many benefits, I decided to put off the tennis racket and to move towards the fitness industry. It's almost eight years since I chose this path. In this whole time I paid a great attention to myself improvement according to the new trends in fitness, because I like to present to my customers the most attractive programs. Some of my certifications are:
Master Trainer and Educator
Personal Trainer
Les Mills (CXWORX and BODYPUMP) Certified Instructor
Trainers Academy Sweden - Strength and Conditioning
For logistic reasons, some modifications may appear in the program of the course. These will be announced in due time for a better organization of the course.
Care este părerea ta?