SCHWINN CYCLING HIIT (High Intensity Interval Training)
(3 credits, 4hours)
Is HIIT a real "HIT"?
This workshop is only available for certified Schwinn Cycling instructors (minimum Bronze Level).
By attending this workshop, you will learn how to connect one of the latest type of training: High Intensive Interval Training with Schwinn Cycling. We will discuss on differences between HIIT and Aerobic training and their applicability depending on the target groups. You will study in detail about Tabata (the most known type of interval training) and we apply interval training methods by using indoor cycling. Also, every participant will acquire 3 Schwinn Credits to support your journey to Silver and Gold Level.
YOU WILL LEARN:
HIIT basics and its applicability
What is EPOC
Tabata protocol workout
How to create your own Schwinn Cycling HIIT profile class
PROGRAM:
8:00 – 9:00 Check in
9:00 – 13:00 Education
TRAINER: LUCIAN MOLDOVAN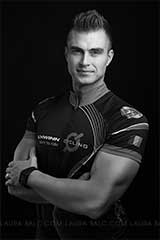 Lucian began teaching Group Fitness & Indoor Cycling in 2012 and since then, he breathes and lives Schwinn Cycling. During the last 6 years he has represented Romania at Cycling Sensations, Cycl'N'Joy, Passion & More, Carpathian Tour and other renowed international and national events in Europe and beyond. For Lucian, every day is a new opportunity to inspire the people he meets by improving their level of health, performance and overall well-being. His passion for Schwinn Cycling has given him the great opportunity to change people's lives by sharing the emotion, energy and motivation needed to trigger the true potential of each individual. Lucian is an experienced consultant with a history of working in multiple industries, with in-depth business sector knowledge both from management and hands-on perspectives.
We mention some of his achievements: TRX® Suspension Training™ Instructor, Master Degree in Politics and Administrative Sciences, Bachelor Degree in International Relations and European Studies.
At present, Lucian is Master Trainer at Move On Fitness School, Master Trainer Schwinn® Cycling, Master Trainer StairMaster® HIIT, International Schwinn® Cycling Presenter.
IMPORTANT INFORMATION
Bring towels and drinks for avoiding dishidratation during the schedule and practical parts. You will have 2 practical sessions (cycling classes) – Cycling Clothes & SPD shoes are highly recommended. Better bring all necessary for taking notes when asked by the trainer. The workshop is delivered in Romanian and English (for any international attendees). Video and photo is not allowed: Only in very specific moments of the education under trainer acceptance and supervision.
*For logistic reasons, some modifications may appear in the program of the course. These will be announced in due time for a better organization of the course.
Care este părerea ta?