This is the way to enter into the original Schwinn Cycling Instructor program. Schwinn has been the pioneer in the fitness world and since then stays as a leader in the Indoor Cycling discipline.
Schwinn Cycling was developed by one of the most experienced indoor cycling teams in the world to ensure that instructors provide class participants with a safe and effective exercise program. Unlike other cycling programs that simply re-create the outdoor riding experience inside, Schwinn Cycling focuses on instructing participants about such cycling and training principles as cadence control and heart rate control to help to achieve their fitness goals and see results. Schwinn Cycling instructors undergo a rigorous certification program to ensure that they understand and teach these principles in their classes.
Schwinn is professional, effective, successful and safe.
YOU WILL LEARN:
Safe and effective indoor cycling
Fun training and communication with clients
Heart rate training
Music analysis
Coaching skills
Anatomy
Physiology
Biomechanics
Mind/ body training
You will have to pass the final test to get certified!
We are proud to have Romanian and international master trainers approved by Schwinn international for teaching the first certification level.
Important information
Students will be provided with manuals in electronic format, via email. Better bring all necessary for taking notes when demanded by trainers. Video is not allowed: Only in very specific moments of the education under trainer acceptance and supervision.
Bring towel and water. Also some rehydrating drink, bananas and nuts are recommended.
TRAINER - CIPRIAN TOMA
Ciprian has been in the fitness industry for more than 14 years. In 1999 graduated from the Academy of Physical Education and Sport than from 2001 started to work with the largest fitness company in Romania where he began to improve his skills as a trainer and aerobic instructor.
Current:
Master Trainer & Educator for Schwinn Indoor Cycling
Nautillus Certified Instructor
UE Strength & Conditioning Certified
Les Mills Certified (BODYPUMP, BODYCOMBAT & CXWORX)
Schwinn Cycling Team Romania
Education:
Academy of Physical Education and Sport
Motto: His true passion is inspiring and motivating individuals to lead healthier, longer lives by offering instruction in all facets of fitness personal trainings and aerobic classes.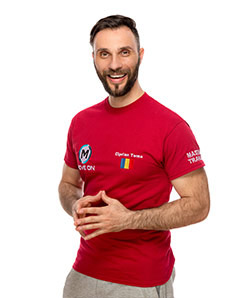 For logistic reasons, some modifications may appear in the program of the course. These will be announced in due time for a better organization of the course.
Powered by:
Care este părerea ta?