5 credits, 8 hours
Music is the road. You cannot visualize, you cannot work hard for your goal, you cannot see the mountains, the highlands, the valleys... if the music is not there, giving you the base, the connection between all the factors that make indoor cycling possible. Music has infinity of possibilities as infinity personalities we are. If you use it properly you make the very first step to success.
You will learn:
As one of the most important components to any successful indoor cycling class, instructors discover how music can affect them as well as the class participants
Increase awareness of music by learning how to listen and analyze different music styles
Learn how to make appropriate music choices for particular class situations and different varieties of class participants
Important Information:
Students will be provided with manuals in electronic format, via email. Better bring all necessary for taking notes when demanded by trainers. Video is not allowed: Only in very specific moments of the education under trainer acceptance and supervision.
Bring towel and water. Also some rehydrating drink, bananas and nuts are recommended.
TRAINER - CIPRIAN TOMA
Ciprian has been in the fitness industry for more than 14 years. In 1999 graduated from the Academy of Physical Education and Sport than from 2001 started to work with the largest fitness company in Romania where he began to improve his skills as a trainer and aerobic instructor.
Current:
Master Trainer & Educator for Schwinn Indoor Cycling
Nautillus Certified Instructor
UE Strength & Conditioning Certified
Les Mills Certified (BODYPUMP, BODYCOMBAT & CXWORX)
Schwinn Cycling Team Romania
Education:
Academy of Physical Education and Sport
Motto: His true passion is inspiring and motivating individuals to lead healthier, longer lives by offering instruction in all facets of fitness personal trainings and aerobic classes.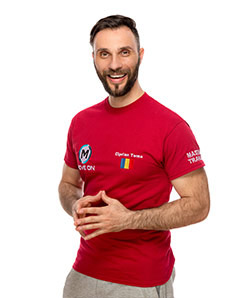 For logistic reasons, some modifications may appear in the program of the course. These will be announced in due time for a better organization of the course.

Care este părerea ta?