IYENGAR YOGA: Backbends & Twists
Workshop with 2 main themes: BACKBENDS and TWISTS.
BACKBENDS practice with a focus on keeping the spine safe.
In this workshop we will explore the nature of back bending poses which don't come easily to most people as these are challenging poses.
We will start from "baby" backbends and from there will progressively build up strength & courage to enable one to go up into Urdhva Dhanurasana (Upward Bow) and other related poses. If there are folding chairs available we will explore different ways chairs can help in opening the body in backbends. Appropriate for all levels.
De-mystifying the TWIST/detox.
In this class we will break down and refine the nuances of what makes twisting poses easier and more effective.
Twists are challenging due to many factors but mainly due to difficulty of breathing while in it as well as stiffness in the hips and shoulders.
There will be some balancing/twists introduced as well such as Parsva Bakasana and many more interesting asanas. Modifications will be offered for all levels.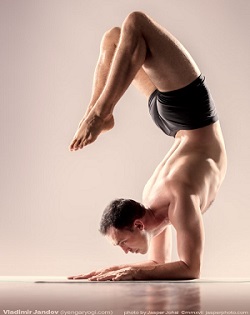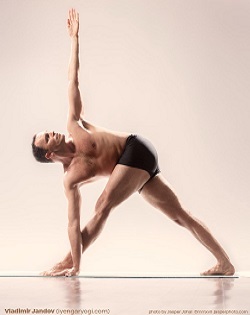 Vladimir Jandov
Vladimir Jandov was introduced to Yoga by his mother at a young age.
Between 2001 and 2016 he traveled to India several times to study with legendary B.K.S. Iyengar himself and his son and daughter.
Another influence in his teaching style comes from his mentor in the U.S. - Manouso Manos. In 2017, he completed a first of its kind 3 - year Therapeutic Training program led by Manouso and received a certificate of a yoga therapist from a reputable IAYT association. He lives and teaches in Los Angeles and regularly travels the world sharing his experience with students as far away as Tokyo, Beijing, Sofia, Rio de Janeiro and other places.
IMPORTANT INFORMATION
The workshop is taught in English. Better bring all necessary for taking notes when demanded by trainers. Video is not allowed: Only in very specific moments of the education under trainer acceptance and supervision.
Participants of this workshop will have free acces to Move On Fitness Planet Convention on Sunday, October 20, for body and mind classes.
For logistic reasons, some modifications may appear in the program of the course. These will be announced in due time for a better organization of the course.
Care este părerea ta?