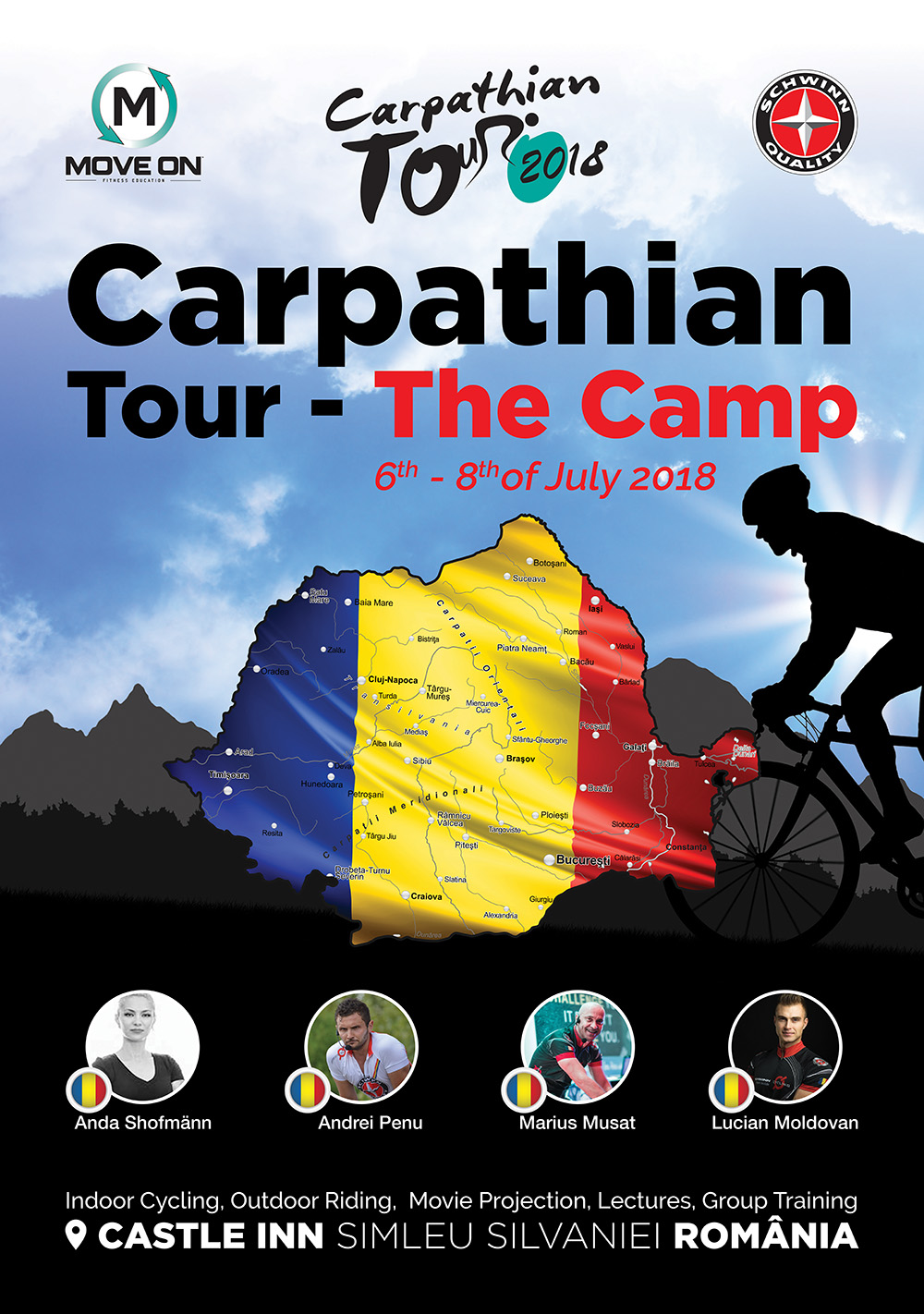 Move On Fitness School invites you to CARPATHIAN TOUR 2018 - The Camp - created exclusively for all Gold & Silver Level Schwinn Cycling Instructors. This summer, we take the TOUR to the heart of Transylvania to offer you the first edition of CAMP throughout a special weekend. Indoor & Outdoor Cycling, Group Fitness, Education and Movie Projections will enrich your education as Instructor and reward you with an unforgettable experience. During three days you will meet fellow instructors from all over the country and take part at various team activities. Move On Schwinn Cycling representatives Andrei Penu and Lucian Moldovan together with Gold Level Instructors Anda Schöfmann and Marius Mușat will ensure you enjoy every second of the camp. You will have Schwinn Cycling classes with all four of them and you can also bring the indoor cycling back to outdoor! Pack your bike for 2 outdoor Instructor Team Bike Rides to admire natural beauty and incredible scenery while having fun in the same time. Prepare your unanswered questions for free discussions and absorb real time education in both theory and practice. During Body & Mind class with Anda you will discover exercises of relaxation, energy awareness, and core-building which will make you feel strong, calm, and refreshed. The carefully selected movies for projection will show you truths about Cycling and examples from the world of cyclists. Furthermore, by attending you will add 2.5 Schwinn Credits to your instructor profile. The camp takes place at CASTLE INN, a special and elegant castle themed location which includes a Hotel, Fleur du Flavours restaurant, InShape Gym & SPA Center and of course a 100% Schwinn Cycling Studio - Heart Cycling. The education, accommodation for 2 nights, meals and access to all facilities are all included. Ready to join us?
ANDREI PENU
Move On Master Trainer and Schwinn Indoor Cycling Department technical Director. With a sport background as a professional tennis player, Andrei has learned what the meaning of motivation is and the strength needed to reach personal targets. He practiced all this with his students as a Tennis Instructor later. With all the knowledge and all the motivation, he started working in the fitness industry in 2006 and since then he has been using them with his clients in personal trainings adding new training methods each time.
LUCIAN MOLDOVAN
Breathes and lives Cycling and he is one of Schwinn Cycling's most well-known European instructors, teaching during the past 5 years at multiple international and national events. For him, every day is a new opportunity to inspire the people he meets by improving their level of health, performance and overall well-being. His passion for Schwinn Cycling has given him the great opportunity to change people's lives by sharing the emotion, energy and motivation needed to trigger the true potential of each individual. As Schwinn International Presenter, together with the Move On Team, Lucian is waiting for you at the "Carpathian Tour - The Camp" for a memorable weekend!
ANDA SHOFMANN
Is a Schwinn Indoor Cycling Gold Level instructor. She has committed herself to the promotion of this discipline and today dedicates all focus to accomplish that mission. She has fought to become part of World Class team and since then, she has been a role model of professionalism and perfectionism. She has supported Schwinn since her beginning and also Move On Fitness School; an example of loyalty that is rewarded again with a presence in our event. In love with yoga and the benefits this offers not only from a physical point of view, she is a dedicated and certified instructor in Hatha, Ashranga, Vinyasa, Yin and Aero Yoga. If you truly love indoor cycling and yoga, don't miss her on the stage.
MARIUS MUȘAT
Began Schwinn Cycling journey in 2012 and followed this passion ever since. The same year, together with his daughter Stefana, they opened the first indoor cycling studio in Sibiu, and enjoyed the experience of teaching this wonderful concept. He is thankful for the opportunity to connect with Schwinn family throughout amazing national and international events. They had the pleasure to organize several events, among which, marathons and special classes with our instructor friends. When he teaches he tries to tell a story through music and words. He believe in connecting with people in a particular way by exchanging energy and passion.
Care este părerea ta?