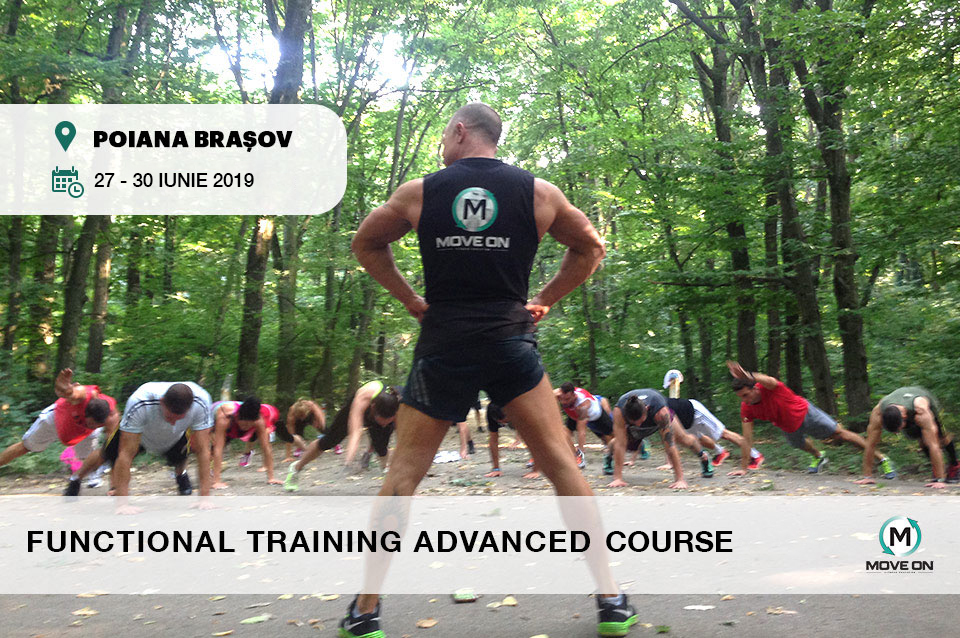 FUNCTIONAL TRAINING ADVANCED COURSE is a unique course in Romania made in Poiana Brașov in the Carpathians Alps. We have included Osteopathy, Posture and Movement Performance as an important new subject. Another innovation is the preparation for Spartan Race, including the creation of an official Move On team "The Dacians" that will compete in the end of the summer in one Spartan Race in Romania. Besides we will have Essential Nutrition lecture. Program will touch different expressions of functional training including Gymnastics, Kettlebell, Pilates, Functional Yoga and more. Included in the course you have a 6 hour workshop certification of NATURAL MOVES with Lorenzo Sommo from Italy.
Don't miss our Barbecue and Palinca Night on Saturday Night.
Train hard, have fun, learn well!
This year the course will take place again in Poiana Braşov, and the participants will have the transport, accommodation and meals included. Accommodation will be at the Hotel Ruia, a hotel with a friendly atmosphere and oriented towards sports training and training courses. For more details regarding hotel click here: https://bit.ly/2IRvdoe.
The trainings will take place in different locations than a fitness room such as a basketball court or ski slope. Course participants will have surprises throughout the mini-training tour.
IMPORTANT INFORMATION
• Bring your food and supplements if needed for all day. Program is long and intense. You need amount of energy to be ready to practice and be focused during the workshops.
• Get enough liquids and be sure that you don't dehydrate during the day.
• Bring enough clothes for at least two workouts a day. Also we recommend to bring a hoodie or sweeter to keep you warm between workouts.
• Bring proper training shoes. Ideally we suggest bring one pair of running shoes and one pair of indoor/more stable shoes each day.
• It is recommended that you have sunscreen creams
• Bring pens and be ready to write during the workshops. You can bring your cameras and tablets but you can record only when told by the educator. Not during the training sessions.
The Team:
Director of the course: Julio Dieguez Papi
Master Trainers Team: Julio Dieguez Papi, Mattia Betti, Lorenzo Sommo, Enrico Giannelli, Antonio Brasile, Horațiu Dumitrescu, Florin Ionescu, Ștefan Cursursuz, Raul Toma, Paul Herinean, Isabela Lăcătuș, Anya Glushkova.
Our Management and Support Team: Gabriel Vasilescu, Diana Oprea, Alexa Bușoi.
Mattia Betti (Italy) - Doctor in Osteopathy, Sports Science Master Degree. Lecturer in Scientific and Medicine Congresses specialized in Osteopathy and Posture. For years have been a top Personal Trainer in Florence now owner of his Medical studio where he also teaches Gyrotonic® and Hatha Yoga. Mattia will bring a full program dedicated to Osteopathy and Posture related to fitness, sport and sport performance.
Lorenzo Sommo (Italy) - Sports Science Master Degree. International Fitness Presenter worldwide acclaimed for his work on functional training. Reebok Athlete since more than a decade, he directs his own Education School and organizes fitness events in Italy. One of the best didactics applied to functional training in the fitness field today.
Enrico Giannelli (Italy) - Pro physical conditioning trainer, Functional Training Master Trainer and International fitness Presenter. Travels a lot for learning, participating in convention and complete a lot of international certification in fitness world specialized in particular in functional training. For the kettlebell have the certification of "IKFF-CKT1" (International Kettlebell Fitness Federation) with Steve cotter and "INTERNATIONAL GHIRI SPORT" with Oleh Ilika.
Antonio Brasile (Italy) - Fitness technician and personal trainer with an experience of about 15 years. His professional growth has led him to become Guido Bruscia's Functional Training School assistant from 2015. The FTS is the first functional and myofascial training school in Italy and with which in 2017 I had the privilege of participating in the MoveOn Functional Training Advanced Certification. He believes in the importance of study and practice; the correct application of valid scientific methods adapted to the characteristics of individuals.
Julio Papi - Mentor of this course. He has been in charge of creating program and structure. Julio is a true legend of fitness worldwide 100% fully dedicated to fitness improvement for everyone. Author of the book "Entrenamiento funcional en Programas de Fitness/Salud", Inde Barcelona 2006, he is one of the most complete international fitness presenters in the world. When Julio makes a program, is a synonym of quality and professionalism. As Physical Education and Sport teacher and Physiotherapist, he will also teach parts of the program correlated with his studies and main interests these days.
Isabela Lăcătuș - Move On Master Trainer. Laureate of the Romanian Sport in 2002, 2004, 2006 - The best sportswoman - at the non olimpical sports - awarded by Romanian government and Emeritus Master of Sport - title granted by the Romanian Gymnastics Federation. She is responsible for the aerobics course and takes care of the details of the program, the adaptation and sharing of content with colleagues, and much more. He was also the first BOSU® Master Trainer in Romania and continues to carry out the Bosu and Bosu 3D-XTREME certification courses on the Romanian territory.
Anya Glushkova - Move On Master Trainer. Teacher at Move On courses, having presented in events and courses in Russia, Italy, Czech, Turkey, Romania, Greece, Bulgaria… She was rhythmic gymnast in Russia. She is the only Advanced Fletcher® Pilates provider in Romania, also certified Pilates in Orange Fitness (Russia), FIF (Italy) and Move On (Romania). Yoga Alliance certified in India she periodically spends time in that country where she practices Hatha Yoga and Iyengar Yoga with some of the most renowned Masters of the discipline.
Raul Toma - Move On Master Trainer. He has been in charge of building the manual for professionals in use at Move On and currently takes care of the didactic logistics during the PT courses. He is a very successful personal trainer and uses this experience transferring it into his teachings. He is now based in UK where he works as Personal Trainer in some of the best facilities in London.
Ștefan Cusursuz - Move On Master Trainer. He is Personal Trainer, Aerobics Instructor, Schwinn Cycling Gold Level Instructor and Les Mills Trainer on more educations. He started practicing many sports since childhood but the best results he had it in basketball, a sport he practiced until maturity and it's still connected with it because now is Physical Trainer of the junior basketball team Steaua. He is one of the most appreciated fitness instructors from Romania and a big passionate for any type of movements.
Horațiu Dumitrescu - Former athlete, practicing for 23 years athletics, triplejump. Graduate of the University of Physical Education and Sport and with a Master in Sport Management, Horaţiu has been practicing for a few years in the field of fitness, where he deals with evaluation, integration and everything related to the performance of coaches both technically and sales in World Class Romania fitness centers.
Florin Ionescu - Since he was a kid, he practiced Greek-Roman wrestling and boxing. He graduate National Coach School (CNFPA) and he has International MMA coach license. Also, he has black belt in Brazilian Jiu Jitsu (BJJ), among the first Jiu Jitsu Brazilian practitioners in Romania and black belt 1 degree in Kempo MMA. Florin is winner of multiple championships / medals at the national championships of Jiu Jitsu Brazilian and Kempo Grappling. He I love sports and for him it's a lifestyle. In World Class Romania, Florin is the manager of the personal training department (PT), on the North area, he is responsible with all the PT task structures, recruitment, training and sales results of the coaches teams (PT).
Paul Herinean - Former athlete, currently Master Trainer, presenter and certified Les Mills instructor, with over 15 years of experience in fitness and bodybuilding. Paul is a benchmark in terms of professionalism and full commitment to healthy sport and lifestyle. The testimony is the rich, or a record of sports diplomas, courses and certifications, as well as its involvement in countless sporting projects, from the creation of sports programs, sports management and coaching, to numerous participations marked at athletics, marathon and semi-marathon competitions.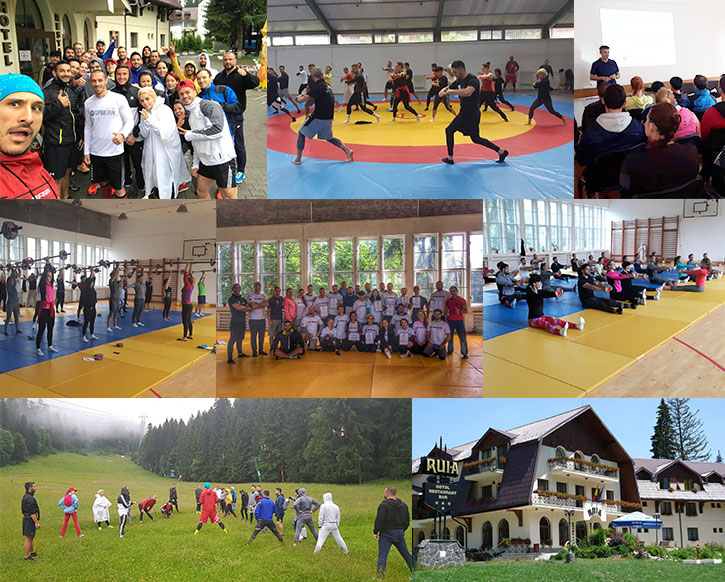 Care este părerea ta?